World Book Day at Ringwood School
World Book Day 2014 was made extra special for students at Ringwood School after the Ringwood & Fordingbridge Lions Club presented them with a cheque for £233.40.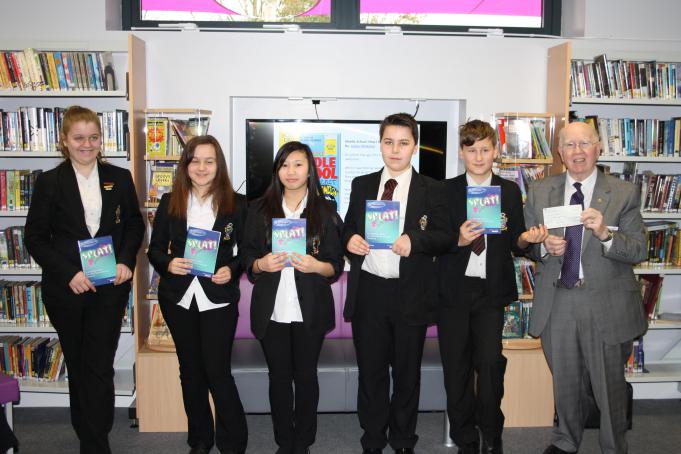 Molly Fairhead-Parsons, Sabrina De-Young Thompson, Samantha Long, Matt Sheehy and Brennan Stott met with Ringwood & Fordingbridge Lions Club Vice President, Geoffrey Kay during World Book Day on Thursday 6th March 2014. The money donated by Ringwood & Fordingbridge Lions Club has been used to buy a series of Superscripts play books for the school's Learning Research Centre.
Sara Blincoe, LRC manager at Ringwood School said: "We would like to thank the Lions for their generous support enabling us to purchase these books. The new play books will add interesting and motivating material for our Key Stage 3 play reading groups. Play reading is an enjoyable way to improve reading confidence. It has been proven that those students who read more do better, not only in school but also in their future lives."
Stephen Sherring, President of the Ringwood & Fordingbridge Lions Club said: "As a club we feel very privileged to have been involved in this project at Ringwood School. Everyone at the club was impressed by the hard work that takes place at the school to ensure students achieve their reading goals and are thereby better equipped to reach their full potential at school and beyond. Reading is such an important life skill, and these books are a wonderful resource targeted at developing reading confidence where it is needed the most."