Ringwood Carnival


Lion Barrie and Lion Yorky helped with Marshalling at the 2015 Ringwood Carnival. Here is Yorky waiting for the off.
The Ringwood and Fordingbridge Lions entered the spirit of the Ringwood Carnival on Saturday 17th September 2011.
Our "float" was a 1960 Buick owned and driven by Arthur Lepine. We had a "singing Elvis" on the roof rack amid lots of other decorations. Our thanks go to Arthur for his generosity. Club members and families were out in force to walk alongside the car with collecting buckets to swell the funds for the Carnival Committee. Leroy our friendly lion ran his little hind legs off as he dashed from one side of the road to the other, to the amusement of the thousands of children plus mums and dads who lined the route. The weather was quite kind to us and stayed dry throughout the parade.
A substantial ammount of money was raised by the Carnival for the Carnival Committee to distribute around the various charities in the Ringwood area.
Below are a few of the photos that we took, although we were far too busy collecting to have time to take many photos.
A very big THANK YOU to all of you who watched the parade and for your donations.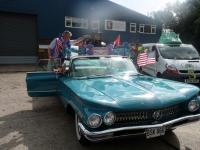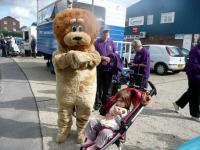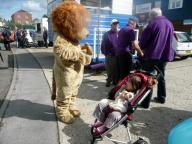 Preparing Elvis Leroy is ready Has that lion eaten my daddy?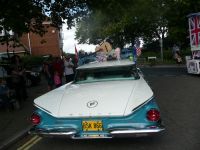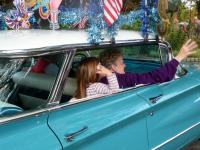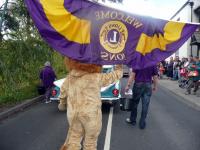 Ready for the off The Royal Wave Back to the Front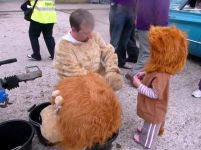 Will I grow up to be as big as you??????