Ringwood & Fordingbridge Lions will be holding a Bookstall near th

e Ringwood Gateway on Saturday 20th October. Please come and support us.

Please direct any Membership enquiries via
Paultons Park
Sunday 17th June was Lions Day at Paultons Park. Ringwood & Fordingbridge Lions Club hosted 30 guests from Home Start New Forest for a day packed with fun and excitement at Paultons Park. Accompanied by mums and dads and carers there was time to sample the delights of Peppa Pig World, the Lost Kingdom and Dinosaur Land and many many rides.
Pictured are some of the families eagerly waiting to enter the park. Everyone went home with a lot of happy memories.




Centennial Award
Pictured below Lion President Yorky Tuke presents the Lions International Silver Centennial Award for membership to Lion Barrie Richardson.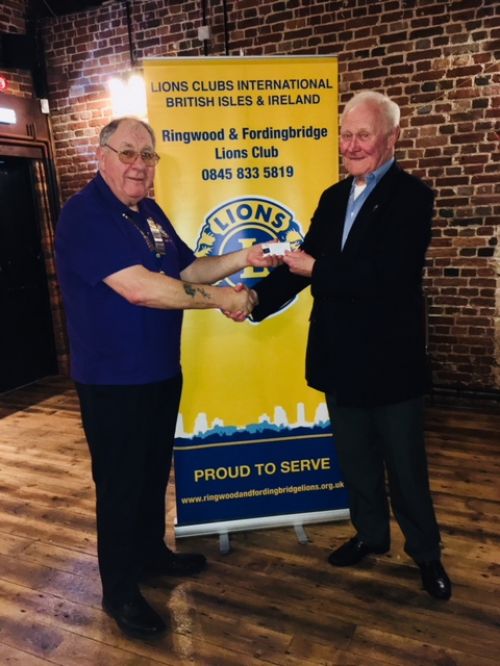 Easter 2018
We would like to thank the following venues for their support during our Easter Egg draws.
The Red Shoot Inn, The Fighting Cocks, The Alice Lisle, The Ship Inn, The Augustus John, The Horse and Groom, The Foresters Arms, The Woodside Inn at Sandy Balls, The George, The Old Beams Inn, The Royal Oak, The Elm Tree, The David Lloyd Club, Tyrrells Ford Country Inn, The Avon Causeway Hotel, The Fish Inn, The White Hart, St Leonards Hotel, The Queen's Head, The Burley Inn, The Star, Ringwood School and Burgate School.
We would also like to thanks all the members of the public who helped us to raise over £2500. This will enable us to continue to carry out our work within the local community and further afield.
Vanda Small
1953 - 2017
Remembered by all her fellow Lions.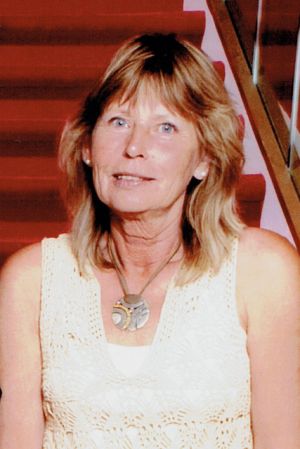 Lions International Youth Camp and Exchange 2017
Pictured below are some of the students from Ringwood School and Burgate School who are heading for destinations around the world on the Lions International Youth Camp and Exchange Programme. They will spend time with Host Families to experience local life and customs, then they will attend an International Youth Camp which will be attended by other young people from around the world.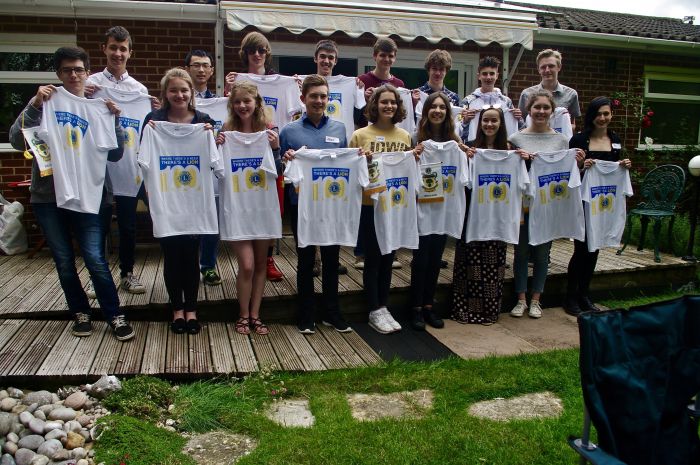 Lions Den 2017
The event took place at Burgate School on Wednesday 22nd March 2017. Burgate School and Ringwood School each entered four teams. Each team was given a maximum of ten minutes to make their presentations. Every member of the team had to speak in front of the audience and be judged by Retired Bank Manager Mr. Arthur Poulton, Deputy Mayor of Fordingbridge Town Councillor Paul Ansty and Lion Yorky Tuke President of Ringwood & Fordingbridge Lions Club.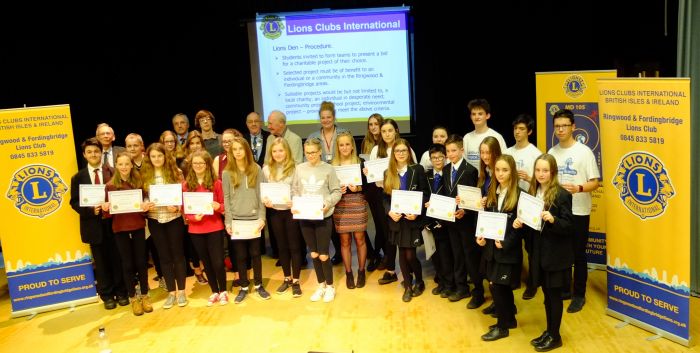 Pictured above are the Presenters and Judges. For more photos see the Lions Den page HERE
New Forest Nightstop


Pictured above Lion President Yorky Tuke presents a cheque for £500 to Catriona Duncan of New Forest Nightstop. The money was donated by the residents of Ringwood and Fordingbridge and collected by Father Christmas and his elves.
New Forest Nightstop provides emergency overnight accommodation for young homeless people aged 16 to 24.
Catriona said "This will go a long way towards helping young people to return to more permanent accommodation. Thank you to the Lions"
Lion President Yorky Tuke and all the members of Ringwood and Fordingbridge Lions Club wish you all a very Merry Christmas and a Happy New Year.
We would like to thank all who have supported us during the past year and hope that we can count on your continued interest. We have been serving our communities of Ringwood and Fordingbridge for over 46 years. As we begin 2017 we will be celebrating 100 years of Lions Clubs International. With nearly 1.4 million members we are the world's biggest service organisation.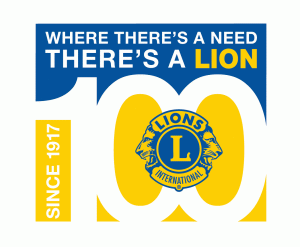 Peace Poster 2016 - 2017
Ned Woodley of Burgate School is this year's winner of the District round of the competition and now progresses to the national finals.
This year's ten finalists from Ringwood School and Burgate School can be seen at Lunn's Art Gallery Ringwood until December.
Posters can be seen HERE
Ringwood School's new Head Teacher
Lion President Yorky Tuke met the new Head Teacher at Ringwood School, Mrs Leanne Symonds and presented her with the club Bannerette. The club has been working with the school on several Lions Youth projects including the Lions International Peace Poster competition, the Lions Den Charity competition and the Lions International Youth Camp and Exchange programme. Mrs Symonds thanked the club for their previous involvement with the students and said that she looks forward to long and happy association with the Lions.
The Lions Youth Camp and Exchange programme



The following words were written by one of our Lions Youth Camp and Exchange students who has just returned from a Youth Camp in Canada.
Thank you to the Lions of Ringwood and Fordingbridge
Thank you for sponsoring me! My trip to Canada was exceptional! Everyone that I met was very kind, helpful and very hospitable. I was amazed at the generosity of Lions to fund and allow many young people like myself to participate in the exchange and the camp free of cost. My highlight of the trip was jet boating up the Niagara river, but the absolute best thing about the whole exchange was meeting some fantastic people. I have new friends from 15 countries; it was the people that made it work. My time in Canada will stay with me for the rest of my life. I would love to help with the Lions in some way, as I have realised that it is a magnificent organisation that only helps people. Thank you for a truly spectacular experience!
A short video about Lions
Who we are and what we do
99 Years of Lionism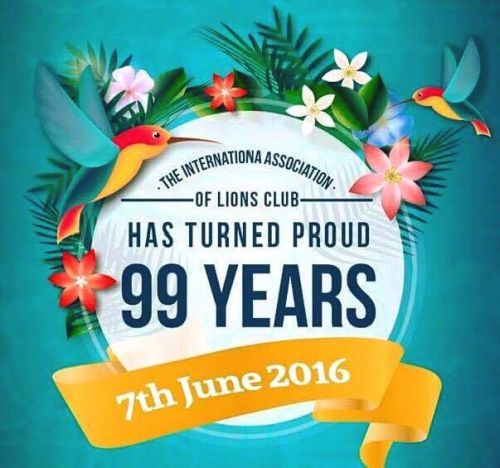 Peace and International understanding for 100 years
As citizens of the world, Lions members respond to one need, one community, one life at a time. Lions members will continue to unite in friendship and serve communities. In this historical Centennial video, you can see how Lions have dedicated themselves to building peace and international understanding across borders and generations. Please take a few minutes to watch and enjoy.
Paultons Park 2016
A great day was had by all on Sunday at Paultons Park. A bit chilly at times but dry and sunny for most of the day. We met up with Marie and all the young carers in the morning and everyone looked happy to be there. There were no cuddly Lions on show and so we were welcomed by a bunny courtesy of Bournemouth Lions.
Basics Hampshire
A team of young swimmers aged from five to ten years old came to our Club Meeting to make a presentation to Jay Andrews of Basics Hampshire. Collette's Dolphins raised £281.20 by swimming 52 lengths in our 50/50 Swimarathon. They wanted to donate £140.60 to Basics Hampshire and £140.60 to the club's Charity Account.
Jay Andrews, when accepting the cheque, said "It clearly takes special people to do so much. Thank you for the Swimarathon cheque. Equipment keeps us at the forefront and you really help."
BASICS Hampshire is the charity that supports volunteer emergency doctors in Hampshire. The doctors respond by car to the critically ill and injured in the vital moments before they reach hospital – and also serve on the air ambulances covering Hampshire and the Isle of Wight, and the Thames Valley. The charity raises funds for emergency equipment.

Pictured are Jay Andrews, Grace(5), Beth(10), Maya(7), Colette(7) and Lion President Yorky Tuke. Team member Barney(7) was unable to attend the presentation.
--------------------------------------------------------------------------------------------------------------------------------------------------------------------------------------------
We have a new President

In January 2016 Lion Geoff Kay, who has been our President for the past eighteen months, has handed over the Chain of Office to Lion Yorky Tuke who will serve for the next eighteen months. All members of the club would like to thank Lion Geoff for the sterling work that he has done during his time in office. He has lead us through a busy and successful period. Lion Yorky is looking forward to the next eighteen months which will carry us into the Lions Clubs International Centenary year in 2017. There are plans in place to hold several events to celebrate our Centenary and we hope you will join us for them.
-------------------------------------------------------------------------------------------------------
For this year's Peace Poster finalists see HERE.
Read about Andrew Goldsmith's AMAZING EXPERIENCE when he visited Israel.
We managed to help eight students to fulfil their dreams on this year's Youth Camp and Youth Exchange Programme.
Here are some of the thoughts and memories of Gina Robinson who went to Italy.
The Lions Youth Exchange has been one of the best experiences of my life. Not only did it allow me to explore an amazing country independently, it also offered me an enormous growing experience. When I arrived back in the UK I felt so much more confident in myself to try new things, more able to organise myself through new challenges and only ask for guidance when I actually need it. Not to mention how thrilled my parents are by my expanded taste buds!
Although I met some of the best friends I will ever have, the person I became closest to was myself, as the exchange offered me an opportunity to be exactly who I naturally wanted to be- that strong, positive girl followed me home and will stay with me forever. The exchange exposed me to such a range of cultures, it has shown me I can look at things with a different attitude to the one adopted by my small home town, and that there is a whole world not all that far away.
I loved every second of my trip and fully intend to go back to visit my host family and the friends from all around the world that I made along the way. I am so thankful to the Lions Club for giving me this opportunity, one that I would never have had without their help and generosity. It has definitely been a summer that I will never forget.
Our stand at the Ellingham and Ringwood Agricultural Show was a great success.
Pictured below.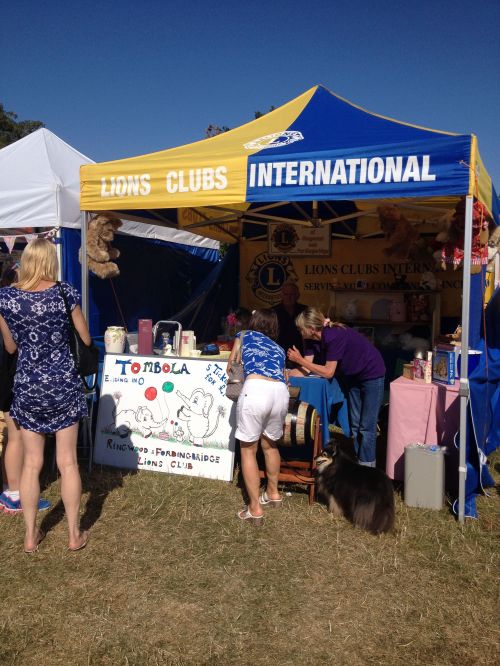 Lions loose in the Furlong Shopping Centre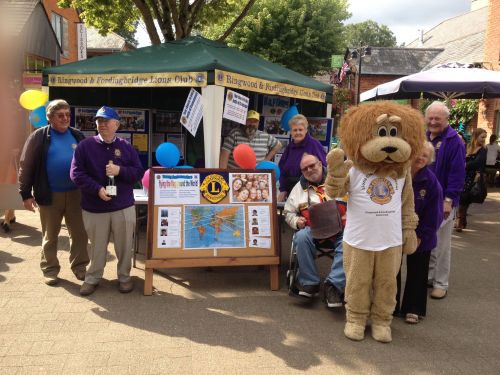 P
On Saturday 5 September 2015 Ringwood & Fordingbridge Lions Club held a Lions Club information event in the Furlong, Ringwood. Club Members were in the Furlong Centre in Ringwood displaying what they do, who they are, what Lions are doing around the world, and offering information about how you can join. Men and women of all ages are doing wonderful work as part of Lions Clubs International in communities such as ours around the world. Roary the Lion the was there to greet the children.. We had 8 local young people travelling to attend international youth camps in different countries around the globe this summer as part of the 2015 Lions Youth Camp & Exchange Program. Some of whom were with us to tell about their experiences. Club Members were on hand to answer any questions about what they do and how you can help.Several members of the public showed interest in our club and what we do. Anyone aged between 17 and 22 living in the Ringwood or Fordingbridge area who would like more information about the 2016 Lions Youth Camp & Exchange Program please follow the link HERE.
Lions Youth Camp and Exchange Program 2015
For more details of this year's Program follow the link here to the Youth Projects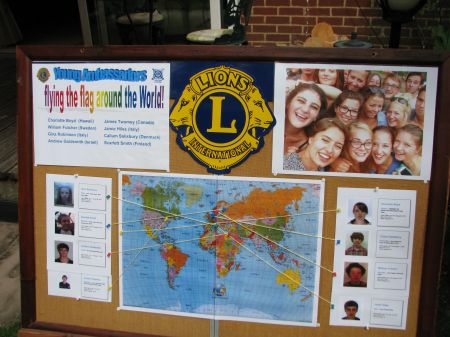 Ringwood Foodbank
Several Lions were collecting food donations on behalf of Ringwood Foodbank at Tesco's Store in Ferndown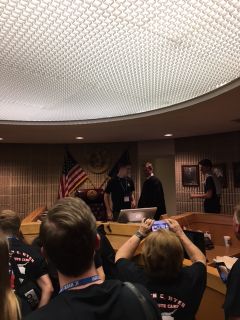 Pictured is Lion President Geoff being admired by a Tesco's poster. We also had some help from Gideon, Millie and Olivia from Ringwood School, pictured below. We were thanked for our support by Tim Brigstock of the Ringwood Foodbank.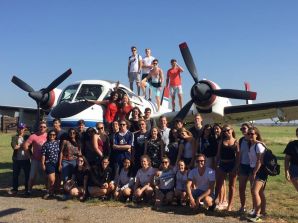 Lions held a stall at the Ringwood Fun Day on Saturday 30th May

The event was organised by Ringwood Churches Together with the support of Ringwood Town Council
With over 5000 people attending in bright sunshine, everything was free to all. Including 2000 Hot dogs, 2000 Burgers, thousands of cakes and ice creams, drinks and games including face painting and all the inflatable games.
We had an information stand and held a Children's Colouring Competition. Two pictures were drawn out, one winning a "Frozen" cake and the other winning a "Wiggles the Caterpillar" cake. Pictured below are the winning entries.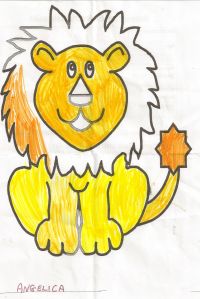 Angelica Dormer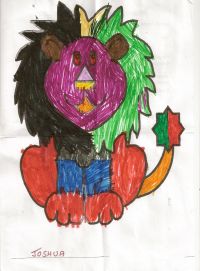 Joshua Waddington

To see more pictures and photos of the day click HERE
Lions let loose at Paultons Park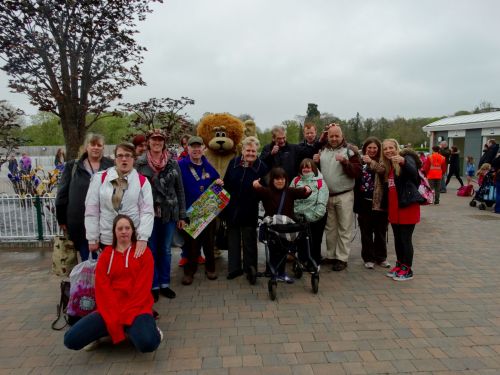 On Sunday 26 April Paultons Park opened it's doors to 37 Lions Clubs from all over the District including Ringwood & Fordingbridge so that nearly 2000 young people could enjoy a wonderful day out at the spectacular theme park in Hampshire. Lions clubs from far and near were encouraged to join in the fun by inviting deserving guests from their own local areas to all descend on Paultons Park for the day.
Ringwood & Fordingbridge Lions Club invited a group from the Stable Family Home Trust at Bisterne near Ringwood to be their guests for the day at Paultons Park. Lion President Geoff Kay pictured above with one of the groups from SFHT commented that "it was a great day out for lots of young people in our local communities designed to specifically accommodate those with disabilities who most deserve a day of fun!"
The Stable Family Home Trust (SFHT) is a Registered Charity that supports people with a learning disability to lead ordinary lives with some extraordinary moments. SFHT offers a range of services to people with a learning disability and their families: supported lives in residential homes, day services, domiciliary support, and support to find employment.
Any group or organisation interested in attending the next Lions Day at Paultons Park in 2015 should contact their local Lions Club for further information.
THE 50/50 CHARITY

SWIMARATHON
Sunday 15th March 2015
Pictured here is Amy Pugh's team from Burgate School. Together with Lion President Geoff Kay and Lion Julie Kay.
They were swimming to support Brain Tumour Reseach

For more photos click HERE
Thank You to the Lions Club from Zimbabwe
This summer, Ringwood and Fordingbridge Lions Club donated £200 to Jasmine towards her fundraising for ICS. International Citizen Service (ICS) is the UKs leading global volunteering programme funded by UK Government and delivered in the form of 12 week overseas volunteering placements in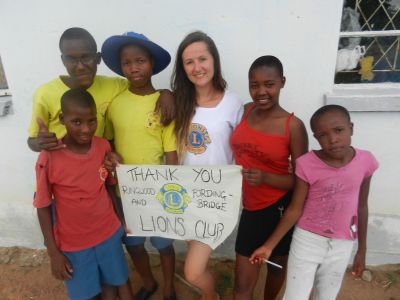 developing countries. The mission being to place young people at the forefront of change and development. Jasmine's placement was at a school in rural Zimbabwe at which she taught classes, formed clubs and supported Income Generating Projects. The money donated by the Lions went towards vital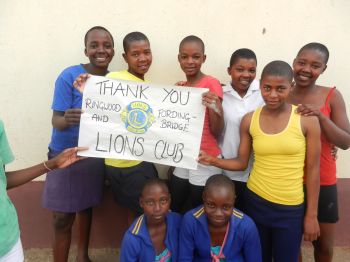 materials for the impoverished school children, such as notebooks, pens and core texts. In an area where the children are unable to even afford a piece of paper, these items can make a huge difference to their capacity to learn. The ICS placement programme runs continuously and is always looking for new volunteers, if you would like to find out more or apply for a life changing experience such as this go to: http://www.volunteerics.org/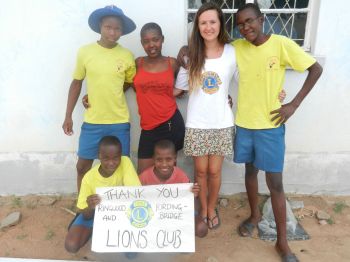 .


Lions let loose at the New Forest & Hampshire County Show
Ringwood and Fordingbridge Lions Club joined forces with 15 other clubs from across the South Coast of England to pool their time, talents and resources to exhibit the important work of Lions Clubs International at this year's New Forest & Hampshire County Show in Brockenhurst on 28th, 29th and 30th July 2014. For the full story see HERE


Two new Melvin Jones Fellows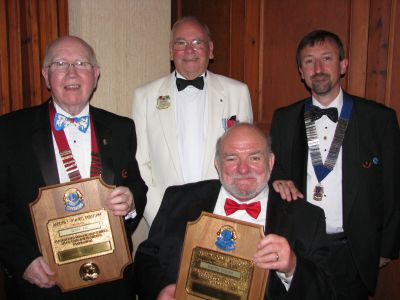 Pictured right are from left to right Lion Geoff Kay, Past Chairman of Council Lion David Firth, Lion Martin Riseam and Lion President Stephen Sherring. Lion David presented the two Melvin Jones Fellowships to Lion Geoff and Lion Martin at our Charter Dinner which was held at the Tyrrells Ford Country Inn on Saturday 14th June. Our congratulations go to both. For more photos from our Charter go HERE.



Serving the community
If you are new to Lionism, through these pages you will be able to find out about the work of the international organisation of Lions and our Lions Club in particular.
If you are a Lion, and perhaps planning to visit our area, we hope that the information on our website will encourage you to visit us.
Have you some time to spare?
Please join Friends of Lions and help us with some of our other projects:
Community Service
Fundraising
Book Stall
Christmas collection
or maybe join us for a social evening.
Any help is gratefully received - and hopefully you will enjoy the activity!
Lions held a stall at the Ringwood Fun Day on Saturday 30th May